2013 Show
Check the video taken by the ChCh Press
David and Graeme very much appreciate the huge effort displayers, re-enactors and sellers who provided such a wide range of  'eye candy' and items for sale that covered all things arms and military. The Public Choice Best display competition attracted a huge number of votes with many displays vying for first place. Unfortunately there could be  one winner with this years recipient of the $150 prize money being the Cowboy Western display.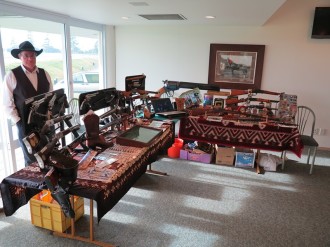 We are indebted to the Rapley family for providing local collectors the chance to purchase some of Robin's collection accessories, gun parts and books from a bygone era.
Next years Show will be Saturday 26 July from 9-4 pm at the Riccarton Park Function Centre. See details here
About Us
Mainland Arms and Militaria presents annual Gun Shows in Christchurch featuring a wide range of items for sale, collectors displays plus promotional information from collecting, sporting and shooting clubs.
The extensive range of antique through to modern items for sale or display includes firearms, bayonets, swords, militaria, medals, badges, models, hunting, fishing, books and scale models.
Attendees will be amazed by the quality of items on display.
For a really good read take a look at our articles page!
MAM's Now Selling Books
NZ Distributor for most of Ian Skennerton books and DVD titles.
Look here for the list of available titles and or go to http://www.skennerton.com for further information about each title.
Look here for Colt  books for sale.
Contact details
Mainland Arms and Militaria Show Ltd
PO Box 9244 Addington
Christchurch 8243
Cell: 0274 35 1940
Email: graeme.woodend@xtra.co.nz